Monday night into Tuesday morning seemed to go on forever. The weather was pleasant and comfortable, but it wasn't a restful night. We slept in the cockpit due to it being too hot below, and the insects pestered us all night long. But more importantly, I was anxious that we would drag anchor and run aground. We had enough water where we were, but if the anchor dragged, it wouldn't be long before that wasn't the case. Normally, I would use an app on my phone to monitor. I would set where we were anchored and it would sound an alarm if we went outside a specified radius of that spot. However, with the house batteries dead and not much left on our phones, I had turned them off for the night. I would need that bit of power in the morning.
The night dragged on and I did get a bit of sleep but woke up hours before dawn. As I sat there in the cockpit, I must confess I was feeling rather low. I may have muttered something about wishing someone would show up just then with cash, I'd sell the boat and chalk it all up as lessons learned.
Eventually, the sun did rise and a beautiful day dawned. I sat and tried to think of some option, just one, some place I could store Strider long term. Our friend, Danny, had helped call and visit many marinas in the area but there were just no slips available that we could find. Maybe a couple for $1500 a month or more, but those weren't an option for me.
I was supposed to be back to work this morning. I'd made the difficult call the previous day saying there was no way I could be back on Tuesday and, frankly, I didn't know when I'd be back. Not a great message to call the boss with. However, he was gracious and seemed to accept my apologies and assurances that I'd be there as soon as humanly possible.
Time to Make a Decision
After calling the last few marinas in the area that I knew of, and getting negative responses everywhere, I was left with just one real option. There was one marina that had mooring balls on a first-come, first-served basis. It would be mine so long as I kept paying the monthly bill.
I called this marina and was told that yes, there were at least 3 deep-water, large boat balls open at the moment. Also, they could put us in a transient dock overnight for us to charge the batteries. I hadn't wanted a ball, but with no other viable options left, the decision was made. Time to go!
We pulled the anchor (by hand, the windlass doesn't work currently – another day's project) and set off, headed north, back up the ICW towards Stuart.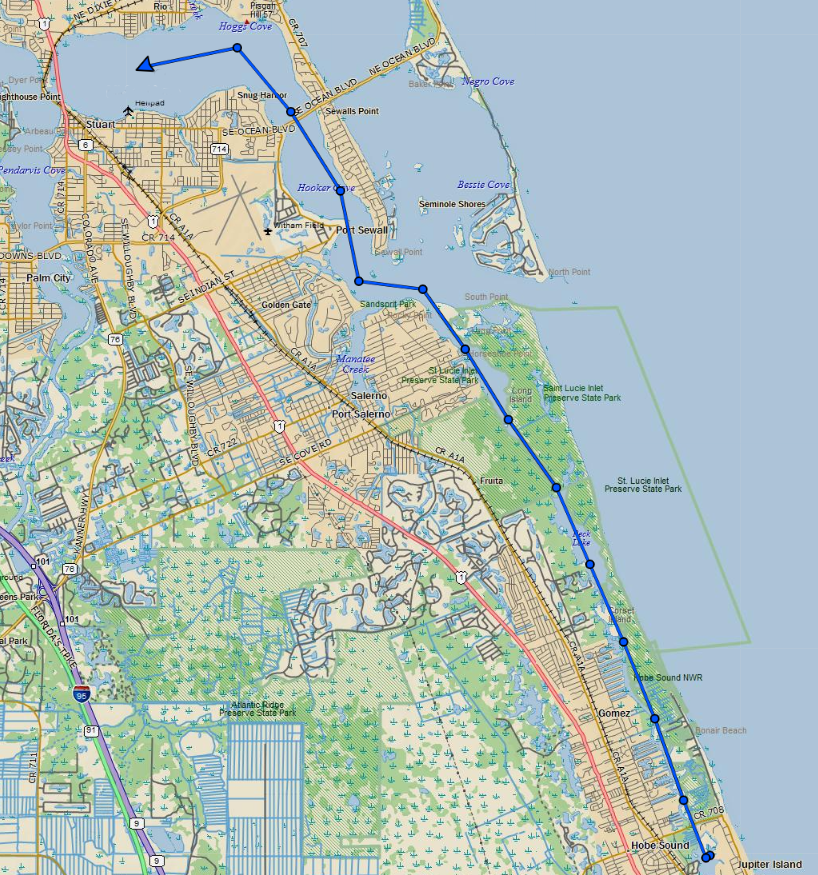 With a plan in mind, at last, this trip was much more pleasant. Though still without battery power and therefore, any running fresh water and other touches of civilization, we were in fairly good spirits. It was a beautiful day, the engine was purring as it should be and we had a destination. Life was good! 🙂
We passed under the Roosevelt Bridge and were presented with a double draw bridge that opens every half-hour. I had a relatively small space to "hang out" while we waited for the bridges to open. Our small space was occupied by other boats as well, plus wind and current.
A conversation with one of the repairmen from Miami came to mind. I'd asked him, when headed down the Miami River and when you come to a large ship coming up, or if a bridge can't open right away, what do you do? His response was "you… wiggle around". Well, we "wiggled around" in that small space, trying to keep my distance from the nearby boats as we all reacted to the wind and current. It was actually a lot easier than I'd imagined!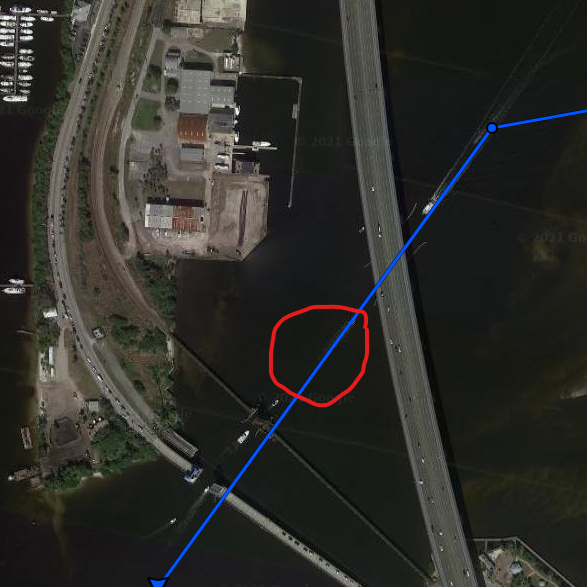 A New Home
Through the bridges and we were home. We did a perfect "drift against the fenders" docking at the fuel dock, my first ever on Strider, and of which I was quite proud. Of course, the wind and current were helping me and that makes all the difference. After taking on fuel, now was the hard part, getting back off that dock that the helpful current and wind were still pushing me. I asked the dock attendant to hold the aft port spring line as I pushed ahead gently and Strider swung her nose away from the dock. Voila, we were off!
Then I had to do it again, down between the rows of boats and backing into a slip between two other boats. This one wasn't quite so picture-perfect, but we made it, thanks to the dock hands' advice and rope handling. We tied up and were home! We quickly ran the 30 amp shore power lead to the dock and had power and air conditioning again. Yay! Then we headed in for the first order of business ashore – a warm shower. Civilization sure is nice sometimes!
We spent the evening taking care of some shopping needs and meeting family for dinner. Tomorrow we'd need to move out to the mooring field, but for now, time for a nice, relaxed sleep in a cool cabin. Yes!